About SHANTI Electrode Steam Generators
SHANTI – Electrode Generator series is fully automatic Electrode Steam Boiler which is a steam packaged unit. It comprises of boiler, feed-pump and the controls together with the feed tank, all housed on a heavy MS Platform. The finish is Elegant.
SHANTI's Efficient & Exclusive Design
Electrode Boilers have a special, easy-to-install design and can therefore, be conveniently accommodated on roofs of buildings, in basements, under stairways and in many other places which would otherwise remain vacant.
With this Electrode Steam Boiler there is also a great saving in the installation work at site, because all that is required is the connection to the electric supply and the equipment using steam to the water supply and drain. Further there is no smoke, fume or smell. Also because of its absolute cleanliness, the boiler can be placed adjacent to the equipment using the steam.
Electrode Steam Boiler has an excellent system of automatic controls and is very simple to operate, extremely efficient and economical.
It is completely fire-proof and is absolutely safe even when it runs without water, as no electric current can pass in dry condition.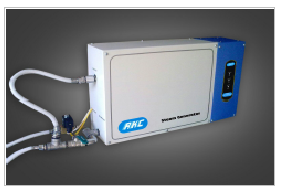 Technical Data
Standard Working Pressure 100 PSI (Higher Working Pressures also available)
Boiler Models
HTE-1
HTE-2
HTE-3
HTE-22
HTE-23
HTE-33
Evaporation (approx)
from & at 100 deg C in Kgs/ hr
55
110
165
220
275
330
Electric Load (approx) kwh
30
70
105
140
175
210
Heat Output(x 10 k cal hr)
30
60
90
120
150
180
Salient Feature:
1. Rapid response to steaming.
2. Full steam in 2 minutes.
3. Fully Automatic Packaged.
Advantages:
1. Labor-Saving and economical as no trained boiler attendant is required.
2. No Boiler House, chimney or Fuel Store required, clean and compact.
3. More convenient than coal/oil-fired boilers.
4. No Fire Risks.