Shanti Boilers introduces yet another revolutionary product " Multi- Flame Combination Skid Mounted Boiler" considering the demand for Efficient , Plug & Play Boilers which will bring down the site execution time drastically. It is a Hybrid and a combination of both packaged Boiler and Membrane Walled Boilers . It is total skid mounted assembly with higher over all combustion & thermal efficiency than the conventional packaged Boiler.
Multi-Flame Boiler is supplied Pre-insulated and has a added advantages of manual and mechanical feeding system .
Model: Shanti Multi-Flame Boilers
Model Number: SB-MF Series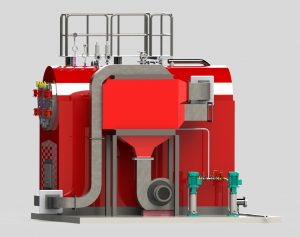 Shanti Multi Flame Boiler
—–> Front View
Capacities:
Evaporation capacity : 1000 kg/hr. To 6000 kg/hr.
Working Pressure : 10.54 kg/sqcm to 17.5 kg/sqcm
Features:
Skid mounted ensures negligible site work
Pre- insulated Skid mounted near to plug and ply
Higher steam space to ensure dry steam
Multi Fuel and Multiple fuel feeding options
4 Pass design with 2 Pass APH provided ensure more efficiency
Use of superier quality valves and fittings ensure durability and negligible maintenace
Applications:
Suits all industrial applications like dyes, drugs & pharmaceuticals, chemicals, food industry, paper & plywood, agro based industries, dairy and other process industries.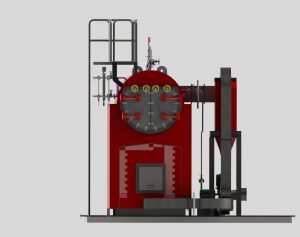 Shanti Multi Flame Boiler
—–> Side View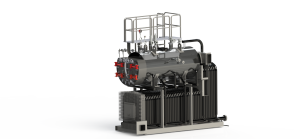 Shanti Multi Flame Boiler
—–> Cross Sectional View